Are you looking for Wheel Balancing for your vehicle?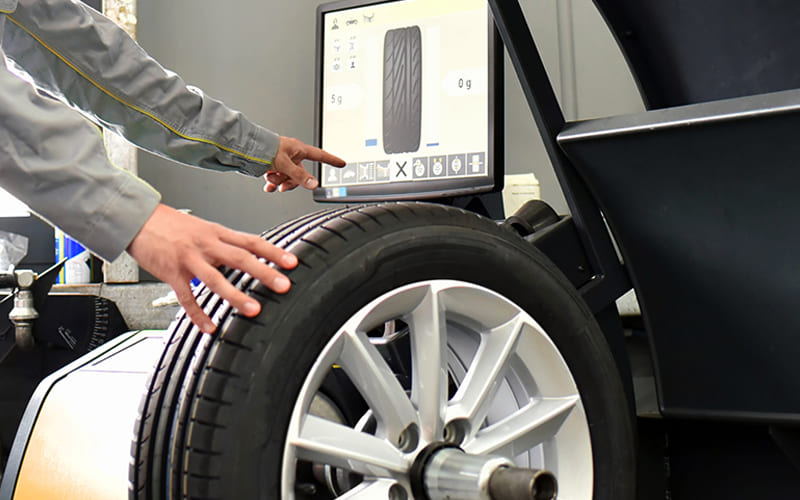 Do your vehicle's wheels vibrate or wobble at certain speeds, usually above 40-50 mph?
If yes, you should opt for a wheel balancing check at the earliest.
At SBL Mobile Tyres, we use an advanced wheel balancing machine for precise car wheel balancing Ashford, Staines, Heathrow.
As a standard procedure we also balance wheels whenever we fit new tyres.
Your car's wheel and tyre assemblies must have their weight distributed uniformly for maximum handling safety and driving comfort. Hence, make sure you opt for this check regularly.
What are the causes of unbalanced wheels?
Incorrect tyre and wheel fitment
Manufacturing defects in tyres and wheels
Sudden impacts (driving through potholes, hitting curbs etc.)
What are the signs of incorrectly balanced wheels?
Vibrations in the steering wheel, seats and floor
Uneven tyre wear patterns
Damaged suspension and steering components
How often should you opt for wheel balancing checks?
Experts of SBL Mobile Tyres recommend regular wheel balancing checks every 10,000 miles. Also, our professionals recommend opting for this check after every tyre fitting session or when you come across any of the signs of unbalanced wheels discussed above.
Here are some of the benefits of regular wheel balancing
Improved handling
Safer driving performance and comfortable riding experience
Increased tyre life
Enhanced fuel efficiency
Hence, put an end to your search for a wheel balancing garage near me with SBL Mobile Tyres.
To know more about wheel balancing Ashford, Staines, Heathrow feel free to call us. You can also visit us directly on any working day. You will find us at 123 Feltham Road, Ashford, TW151AB.
We will be happy to help you out.
Call us.