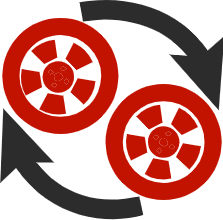 4 Tyre Rotation
Get the most out of your tyres
Tyre rotation means exactly what it says; it is the practice of rotating a vehicles tyres from one position to another to ensure that the tyres wear evenly and provides the highest possible performance - which also extends the life of a full set of tyres.
Tyre rotation can be undertaken by our mobile technicians at your home or work for just £59.99, within a 15 mile radius of Staines-upon-Thames. Just give us a ring and book it in!
The majority of cars have the engine in the front of the vehicle, therefore more weight is on the front axle, along with turning and braking; it generally means the front tyres wear quicker than the rear. Tyre rotation helps the life of all 4 tyres last much longer.