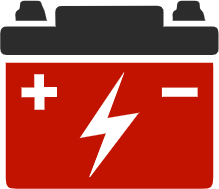 Car Batteries
Car Batteries Supply & Fitting
The smart way to buy batteries
You have just found the easiest way to a buy car battery Ashford.
Order your battery with SBL Mobile Tyres and we will fit car batteries to your car on site. On top of this, in most cases, we can offer a same day service. Simply call us with your car registration ready and we'll do the rest!
A car battery usually only has a lifespan of only five years, but even with new ones things can go wrong. Luckily for you, we have got you covered! We will supply you with a new battery Ashford, Staines, Heathrow and fit it at your home or anywhere you may be stuck to get you on your way.  We do not charge a call out on battery replacement Ashford, Staines, Heathrow within working hours and if you are in a 15 mile radius of Ashford, Middlesex.
Our prices include free battery fitting, disposal of the old battery and VAT – no hidden extras.
Call us now on : 0777 005 0057