Are you looking for Tyres Size for your vehicle?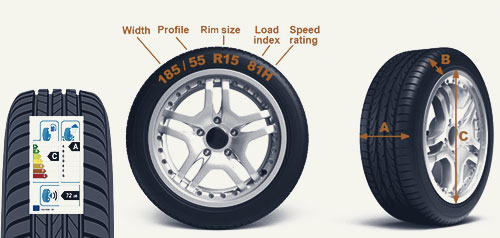 Are you searching for new car tyres Ashford?
It is essential to know about the right tyre size for your vehicle before going for a tyre replacement.
Accurate tyre size is crucial for an optimal driving experience. It has a lot to do with your vehicle's fuel efficiency, grip, handling and cornering capabilities. Incorrect tyre size can take a toll on your car and affect your driving safety and handling comfort.
With SBL Mobile Tyres, you can buy car tyres Ashford of the perfect size for your vehicle without any hassle or confusion. Our team will provide the necessary guidance to help you choose the ideal tyres Ashford for your vehicle.
What is tyre size?
The tyre size is a unique alphanumeric code, imprinted on the sidewalls of tyres.
Decoding tyre size
A tyre size provides the following information:
Tyre width
Aspect ratio or profile
Type of construction
Rim diameter
Load index
Speed rating
To get a better understanding, let's go through this example: 205/60R15 91V
205: The first three digits denote the width of the tyre. It is measured in millimetres.
60: It is the aspect ratio or profile of the tyre in question. The aspect ratio is obtained by dividing the height of the tyre sidewall by the width and then multiplying it by 100.
R: This alphabet signifies the type of construction the tyre comes with. 'R' refers to radial construction. Most tyres in the UK today are of radial construction.
15: It is the rim diameter which is represented in inches.
91: This denotes the maximum load-carrying capacity of the tyres.
V: The speed rating of a tyre indicates the maximum speed at which that tyre can run with its optimum load capacity.
If you are looking to buy car tyres Ashford, quit searching for 'tyres near me'. Instead, trust SBL Mobile Tyres for the best tyres for your vehicle.